Worship
Sundays at 10 am. Fellowship offers a contemporary worship experience that welcomes everyone. Come experience God with us at Fellowship UMC!
Livestream
Give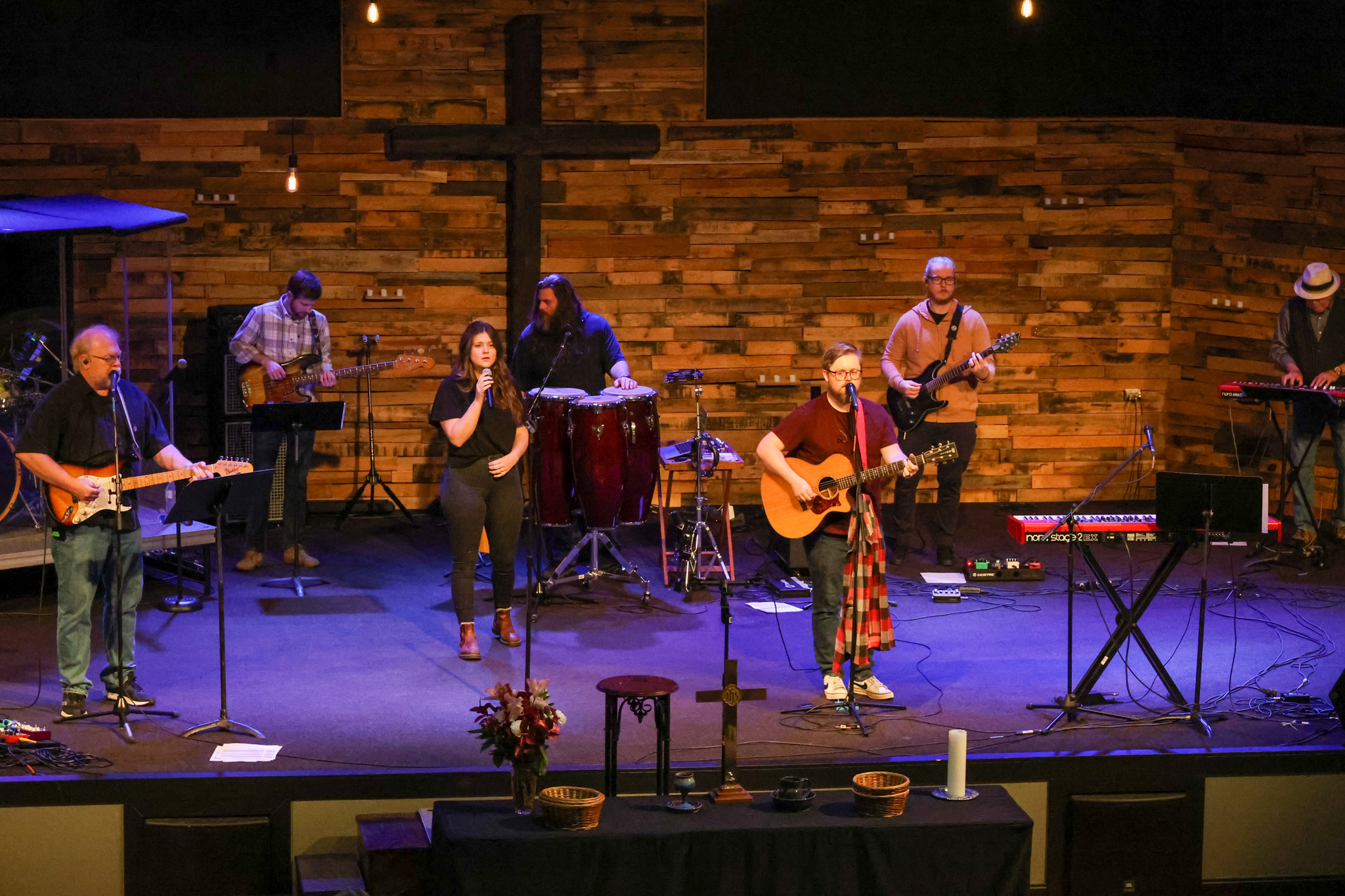 Sunday Morning
What does worship look like?
We begin service at 10:00 am each Sunday. Come in a few minutes early so you can find a seat!
Fellowship believes in corporate worship together. Our contemporary band will lead the congregation in a song of worship, and we encourage you to sing with them!
Following the opening song, we share the latest church announcements and things you need to know to stay in the loop. Our band will lead us in two more songs while an offering is taken.
One of our pastors will offer that week's sermon, usually a part of a greater sermon series.
We close with a final song and reflection time. During this time, the pastor is available to pray with you and our altars are open to everyone.
Worship Leadership
Ways to Lead
When it comes to worship music & sound, Fellowship aims to offer a high-quality experience for our community.
Fellowship is always looking for more volunteers to play instruments, mix sound, manage slides, and run lighting. All experience levels are welcome!
For more information, reach out to leealexander@tnfellowship.com
The church needs money to survive and thrive. One of the ways we make sure this happens is through weekly tithes and offerings.
Each week during the service, we pass around an offering plate. You can either add cash or check to these plates, or you can give online through Church Center.
Fellowship prioritizes a welcoming environment for everyone who walks through our doors. We have a dedicated welcome team that seeks to make you feel right at home and answer any questions you may have.
If you are interested in being a part of that welcome team, reach out to leealexander@tnfellowship.com 
Fellowship believes that everyone in the church has gifts and talents that are important to the Kingdom of God. How can your gifts and talents be used at Fellowship?
We are always looking for volunteers to help with our prayer team, set up the worship space for different needs, bake bread for Communion, and serve our Emergency Response Team among many other things.
Contact leealexander@tnfellowship.com for more information about different ways to get involved.
Since Fellowship has moved to a one-service model, our volunteers are hard at work during our main worship time. We recognize the need for worship in every individual, which is why we offer a 9 am worship service for our volunteers.
This service is a more personal version of our 10 am service, but we want to make sure our volunteers can have that experience as well!
Do you have a passion for leading the younger generation and teaching them about Jesus? Well we have serving opportunities for you! While our 10:00 AM service happens, kids ranging from pre-school age to 5th grade go to FC Kids to learn about Jesus in a meaningful and engaging way.
Want to learn how to get involved in this ministry? Contact michelleholtsclaw@tnfellowship.com
Can't Join Us In Person?
Fellowship offers a livestream each Sunday on our Facebook and YouTube pages.