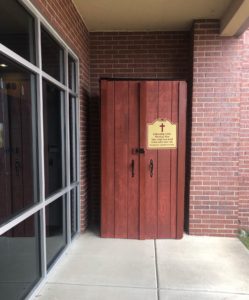 Blessing Box: "Take What you Need, Leave What You can"
A Blessing Box is located at Fellowship outside the office door, along the main parking lot. This project was completed as part of an Eagle Project with Troop 197.
Items that seem to be most needed by the families accessing the supplies:
Canned meats, fruits, and vegetables – no glass containers please
Plastic jars of peanut butter, jelly – lunch options for kids
Cereal boxes for families and/or individuals, oatmeal, grits, energy bars, breakfast bars
Toiletries – toothpaste, toothbrushes, deodorant, female supplies, soap
Soups, spaghetti and sauce, mac and cheese boxes, beef stew, packages of noodles
Baby wipes, diapers, baby food
Water, drinks, coffee, teas
"Take what you need and leave what you can" Share this information with friends, neighbors, schools, and community social media pages.  This box is available 24/7 for those in need of food and supplies.